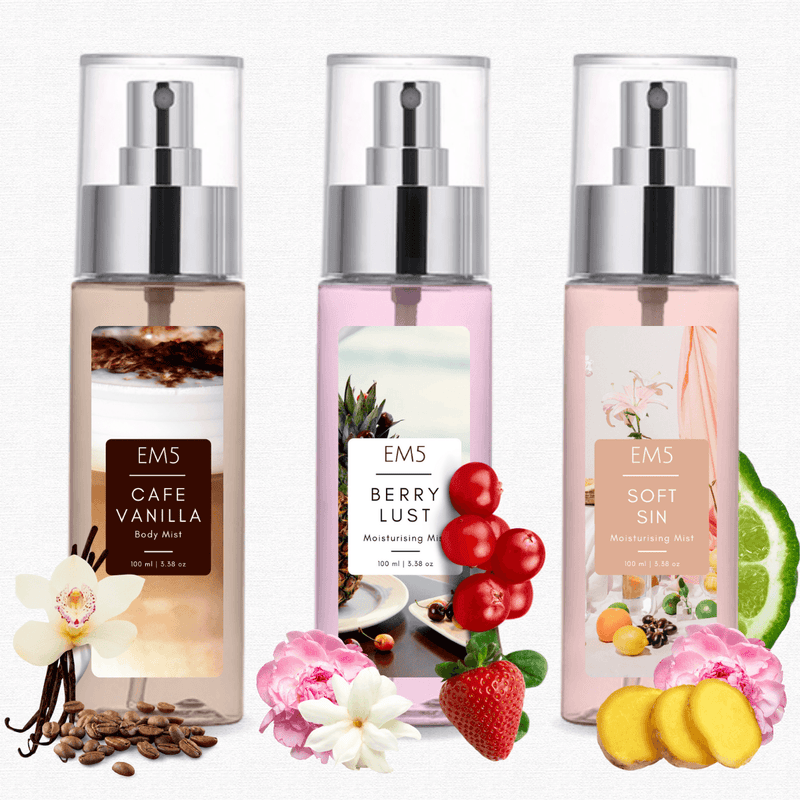 EM5™ Body Mist - Set of 3 Long Lasting Fragrance - Moisturizing and Hydrating Body Mist with Aloe Vera and Vitamin-E (Cafe Vanilla - Berry Lust - Soft Sin)
Perfume Notes:
files/Vanilla_0e52452c-9187-4cd2-8721-17e75c72880c.png
files/Coffee_ed719abf-fb1e-408f-9608-6015faed50c5.png
files/Citrus_86348a64-8fc1-48eb-9b6b-2fdf7432c28f.png
files/Aromatic_7c93887a-3eaa-475e-a343-dac2bbabc49c.png
files/Fruity_a4354347-0382-46f7-ba6e-3ff40a3ba8c1.png
files/All_Season.png
In stock
300 g
✔️Sheer Luxury, An explosion of mesmerizing fragrance that helps you keep Fresh, Hydrated and Smell Awesome for long hours.
✔️Handpicked Charm Each set contains a carefully curated range of fragrances that are fit for multiple occasions.
✔️Beautifully Packed & Poured The body mist spray comes in a handy range of pretty pet bottles, which fit perfectly into your sling bags or backpacks. The dreamy fragrance with rich, sensuous accents and irresistible charm is perfect for gifting, traveling and personal use.
✔️Tranquil Experience We invite you to embrace fresh luxury scents that embodies confidence & sophistication. Spray it on your body and neck after showering, dressing, or before going out. Best fit for daily use.